About Us
Designer/Artist
DinoMixer was designed and illustrated by Charley Parker, author/artist of Dinosaur Cartoons and the Argon Zark! interactive web comic.
Developer
DinoMixer was developed by Mobomia.
Sound
The DinoMixer prehistoric sounds were designed by Bruce Gulick.
About DinoMixer
DinoMixer is an application for the iPhone and iPod Touch.
Designed to please dinosaur fans of all ages, DinoMixer lets you mix and match dinosaur heads, bodies and tails to make your own crazy mixed-up dinosaurs!
DinoMixer 1.5 features detailed, colorful images of 13 dinosaurs:
Allosaurus
Apatosaurus
Carnotaurus
Coelophysis
Edmontosaurus
Gallimimus
Pachycephalosaurus
Parasaurolophus
Spinosaurus
Stegosaurus
Triceratops
Troodon
Tyrannosaurus
Swipe up an down to spin through the dinosaur heads, bodies and tails. Mixed and matched, there are over 2,000 possible combinations.
Match all three parts of the same dinosaur and the dinosaur name pops up!
DinoMixer includes 4 interchangeable sets of backgrounds and foregrounds that can also be mixed and matched:
"Forest Edge"
"Fallen Logs"
"Canyon Cliffs"
"Cypress Swamp"
...plus a blank background for those who like their dinosaurs served up plain! Swipe sideways to choose a background.
Make the coolest, or funniest, combinations you can; or mix them up with a shake see how fast you can match them back up; all to sounds of the prehistoric jungle.
Future free updates will include new backgrounds and foregrounds, new dinosaurs, and other added features.
DinoMixer is listed under Entertainment and is available now from the App Store for only 99¢!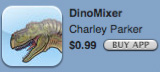 Version History
Version 1.0 (5/15/09):

Initial release, 10 dinosaurs, 1 background

Version 1.1 (6/15/09):

Added changeable background feature, new background ("Fallen Logs"), blank background, new soundtrack, dinosaur names feature, new dinosaur (Spinosaurus)

Version 1.2 (7/17/09):

Added new background ("Canyon Cliffs"), new dinosaur (Triceratops)

Version 1.3 (7/27/09):

Added new background ("Cypress Swamp")

Version 1.4 (8/21/09):

Added new dinosaur (Coelophysis)

Version 1.5 (9/4/09):

New changable foreground feature and 4 new foregrounds!

Version 1.6 (9/18/09):

New background/foreground combination ("Giant Redwoods")